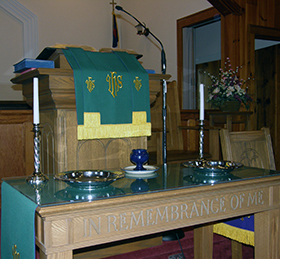 Our worship service is traditional in its structure but joyous and easy going. We are family friendly and have moments for children to participate in worship as well as a play area in the fellowship hall during worship as needed. We welcome everyone no matter where they are in their faith journey and hope that we can encourage them as they grow in their journey of discipleship.
You may enter the church through the front doors which will lead directly into the sanctuary. There is also a handicap entrance at the rear of the church where there is level ground for pick up and drop off. All the restrooms are handicap accessible and the sanctuary and fellowship hall are all on one level.
In addition to our 9:30 a.m. Sunday services, Bible/book study is scheduled throughout the year. This is a joint study with Newdale and Micaville Presbyterian churches and is held on Monday evenings. Previous studies have included; Adam Hamilton's book "When Christians Get It Wrong", NT Wrights book "Surprised by Hope", the book of Revelation, Acts, and Hebrews, and we will be starting a study on the sacrament of communion using William Willimon's book "Sunday Dinner, The Lord's Supper and the Christian Life."
---
Director of Music: Eveline Horrell
---
Recent sermons